Power of Love® 2014
MGM Grand Hotel and Casino, Las Vegas, Nevada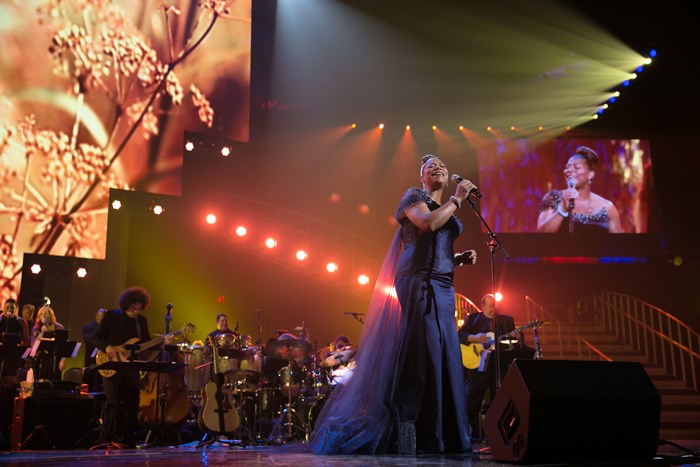 Stars honor Gloria and Emilio Estefan at Keep Memory Alive's 18th annual Power of Love® gala in Las Vegas
On April 26, 2014, some of the biggest names in the entertainment industry honored Gloria and Emilio Estefan at the 18th annual Power of Love® gala at MGM Grand Hotel & Casino. The star-studded event raised funds for Cleveland Clinic Lou Ruvo Center for Brain Health and its fight against degenerative brain diseases including Alzheimer's, Huntington's and Parkinson's diseases, frontotemporal dementia, multiple sclerosis and multiple system atrophy.
Highlights from the night included a special performance from Gloria Estefan, Rita Moreno singing from her own as well as Gloria's songbook, and impassioned tributes from Ricky Martin, Queen Latifah, and Jordin Sparks. Guests were treated to a memorable duet by Gloria and Carole King and a debut performance from Emilio Estefan's newest artist, Fantine. Jon Secada joined Gloria and the Las Vegas Mass Choir on stage and closed the evening by singing a special rendition of "Coming out of the Dark." Celebrity supporters who also attended the event included film and TV luminaries Quincy Jones, Andy Garcia, Sharon Stone, Christopher Meloni and Steve Schirripa.
Continuing its 18-year history, the Power of Love® gala showcased a celebrity-chef-packed dinner prepared by superstar chefs Wolfgang Puck and Masaharu Morimoto.
Media coverage from the 2014 gala included:
Thank You to Our 2014 Power of Love® Sponsors
Past Power of Love® Galas
See how the Power of Love® gala has evolved since the beginning, becoming more popular and impressive with each passing year.