World Class Care
Cleveland Clinic Nevada is not an island in the desert. Rather, we're part of Cleveland Clinic, a health system founded in 1921 and now recognized around the globe for a commitment to world-class care and recognized closer to home by U.S. News & World Report, whose annual rankings perennially list Cleveland Clinic among the top five hospitals in the country and its neurology program in the top 10.
Cleveland Clinic Nevada offers imaging for nearly the entire body, as well as specialty neurology programs at Cleveland Clinic Lou Ruvo Center for Brain Health for the research, treatment, and support of individuals and families living with cognitive disorders (Alzheimer's disease; Lewy body, frontotemporal and other dementias), movement disorders (Huntington's and Parkinson's disease, progressive supranuclear palsy, multiple system atrophy, and more) and multiple sclerosis.
Watch the power of philanthropy in action and
consider how you can make a gift.
Celebrating Our First 10 Years:
2009-2019
Since opening in July 2009, Cleveland Clinic Lou Ruvo Center for Brain Health has earned Numerous Designations, including: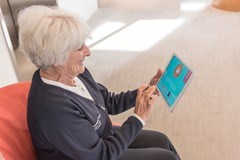 Healthy Brains Initiative
Join more than 1 million site visitors for a free, online brain health self-assessment. We advocate a proactive approach to brain health: No one is too young — or too old — to start.
Learn More
Not Resting on Our Laurels
Cleveland Clinic Nevada continues to innovate. Building on peer-reviewed science indicating that up to 40% of all Alzheimer's cases might be preventable through risk-reduction strategies, in June 2020, we opened the nation's first Alzheimer's prevention clinic designed just for women: The Women's Alzheimer's Movement Prevention Center at Cleveland Clinic, in collaboration with Maria Shriver.
Learn More
Unwavering dedication and optimism are the driving forces behind the innovation, research and scientific discovery happening at Cleveland Clinic Nevada, and you can help.
Donate Now