An Enduring Gift: Become Part of Frank Gehry's Iconic Building to Keep Memory Alive
We are pleased to offer enduring and meaningful tributes to those who have given to Keep Memory Alive in support of Cleveland Clinic Lou Ruvo Center for Brain Health, where 100% of funds raised benefit patients and their families.
Keep Memory Alive Honor Wall
The Honor Wall is a three-dimensional visual centerpiece of the Lou Ruvo Center for Brain Health's entrance. You or someone of your choosing will be recognized on a stainless steel mural of plaques artfully integrated into Frank Gehry's landmark building.
Betty Fulton Reflections Garden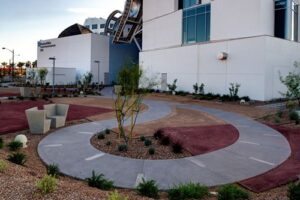 This beautiful outdoor space is accessible to the community and offers many opportunities to become a recognized partner of the Lou Ruvo Center for Brain Health. The garden includes benches, paved walkways, and trees available to honor a donor or remember a loved one.
Sponsorships
Additional donor recognition opportunities exist for interior and exterior building sponsorships, including patient care areas, imaging rooms, research offices and other locations throughout the center.
Generous sponsorships of endowed chairs, research programs, and educational symposia are among the ways we attract top-tier physicians. With your donation, you can be part of the research we do every day that offers hope to patients and their families for better treatments and cures.
To learn more about donor recognition opportunities, download our brochure. For more information, please contact us at 702.263.9797 or DonateNevada@ccf.org.
In Our Donors' Words
We have been pleased to recognize the commitment of our donors, such as Marydean Martin and Charlie Silvestri, in our New Thinking magazine. Read about their passion and the satisfaction they derive from contributing toward a world without degenerative brain disease.