Caregiver Education & Library
The Lynne Ruffin-Smith Library
Imagine that you or a loved one has been diagnosed with a neurodegenerative disorder. Once this brutal fact sinks in, what's your next move?
Dylan Wint, MD, Las Vegas Legacy Neuroscience Education Chair, hopes you go back to school — figuratively. Dr. Wint routinely urges patients and caregivers to learn as much as they can. He places education among an array of nonmedical tactics that constitute a core part of treatment and lead to better outcomes.
Cleveland Clinic Nevada providers discuss the impact on patients of being homebound due to COVID-19 and how philanthropy can ease the burden.
Our Free e-Library Contains the Knowledge You Need to Be Powerful
The Lynne Ruffin-Smith e-Library is a great place to find out about the brain conditions treated at Cleveland Clinic Nevada.
In addition to those who are homebound and appreciate the convenience of 24/7 access to a world of information, many are long-distance caregivers seeking to understand what a loved one faraway might be experiencing.
Feel free to browse our e-Library. If you want to check out materials, you'll need an e-Library card number. To obtain your card number, contact the library at 702.483.6033 between 8:30 a.m. and 4:30 p.m. Monday through Friday or anytime at LouRuvoLibrary@ccf.org.
Should you visit our Las Vegas campus, we also have a physical library: Don't leave without checking out a book!
You're Always Welcome
Among the scheduled education programs we offer ONLINE are:
Barbara "Spicy Lady" Edmonds Lunch & Learn, a weekly program for patients, caregivers and family members that explores the varied facets of living with a brain disorder.
Powerful Tools for Caregivers, a peer-to-peer class led by family caregivers that teaches participants how to practice self-care and to identify helpful resources for managing the stress of caregiving.
Healthier Living, a workshop that helps caregivers who are themselves living with a chronic condition such as diabetes, Parkinson's disease or high blood pressure to set and achieve goals to enhance personal health and well-being.
Check out our program calendar to see the schedule of upcoming ONLINE education, therapeutic and support programs, and events you can access from anywhere. You can also receive a monthly email update on our free education programming by contacting us at LouRuvoSocialServ@ccf.org.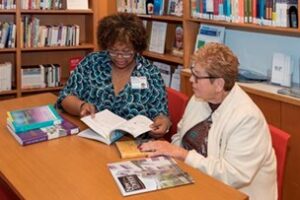 Join Us
These programs exist because of generous donors to Keep Memory Alive® who make gifts of all sizes, as well as grants from the state of Nevada's Aging and Disability Services Division. If you'd like to sponsor a particular program, call 702.263.9797 or email DonateNevada@ccf.org.