Summer Social and Rodeo at Shakespeare Ranch 2019
Shakespeare Ranch, Glenbrook, NV 
Please email rodeo@keepmemoryalive.org or call our office at 702.263.9797.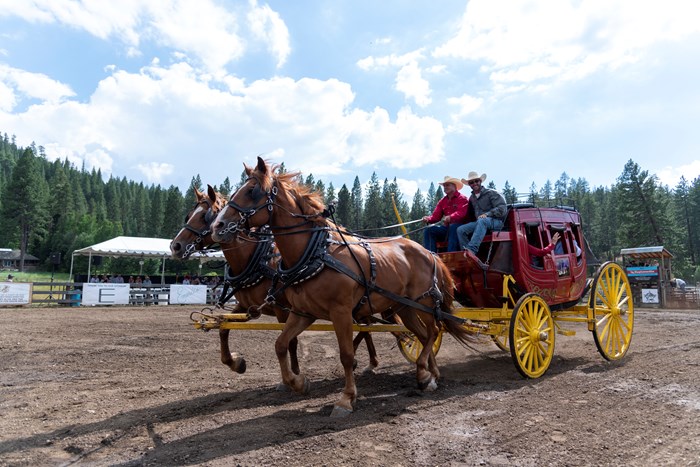 On July 26-27, Keep Memory Alive hosted its annual Summer Social and Rodeo at Shakespeare Ranch, a private Lake Tahoe estate, to raise money to support the work of Cleveland Clinic Lou Ruvo Center for Brain Health.
On Friday afternoon, guests enjoyed a classic American rodeo complete with bull and bronco riding, barrel racing, ribbon roping and entertainment from rodeo clowns, followed by a barbecue with all the fixings, along with specialty cocktails and mocktails from Southern Glazer's Wine & Spirits and artisanal gelato from Chef Luciano Pellegrini.
Champion auctioneer Joseph Mast called out exciting live auction packages including an appearance on "Bar Rescue" with Jon Taffer, a trip to Montage Los Cabos resort, an autographed guitar from Sammy Hagar, a Las Vegas package with Lionel Richie tickets, a trip to New Orleans for Lagasse's Boudin, Bourbon & Beer celebration and a luxurious private yacht adventure.
The rodeo winners were presented with custom championship belt buckles before guests two-stepped all night long to an energetic performance from country artist tribute band Left Of Centre.
The next evening, guests returned to the picturesque estate for a gourmet dinner prepared by Chef Emeril Lagasse served under the Tahoe stars and a performance from rock legends Little River Band, singing hits such as "Help Is On Its Way" and "Reminiscing."
After showing an emotional video demonstrating the difficult role caregivers have in providing for their loved ones, Keep Memory Alive Co-Founders Larry and Camille Ruvo addressed the crowd, sharing first-hand experience of watching Larry's father pass away from Alzheimer's and the devastating effect it had on his mother.
"We are on the cutting edge of a lot of great things," said Camille Ruvo. "But until that actually happens, these caregivers play a crucial role in the lives of those who are burdened with these neurological diseases. You may not have somebody with Alzheimer's or Parkinson's or MS, but many of you all have a loved one that may fall ill or you have to take care of, so we are all in this together."
Don't miss the fun and fundraising: Keep Memory Alive hosts events throughout the year. Visit our website, keepmemoryalive.org, or contact us anytime at 702.263.9797 or events@keepmemoryalive.org for more information or to subscribe to our monthly events email updates.
Thank You to Our Sponsors
The Abel Family
Nancy Albertini & Steve Metzger
Gina & Ken Ambrose
Beau Joie
The Beelar Family
Tamra & Ray Brown
The Carano Family
Cleveland Clinic
Brandis & Jon Deitelbaum
Tammy & Michael Dermody
Eldorado Hotel & Casino
Emeril's
The Emeril Lagasse Foundation
Kathie & Al Faccinto, Jr
Ferrari – Carano Vineyards & Winery
The Frank Family
Philip Griffith
Sandy & Steve Hardie
Hard Rock Hotel & Casino Lake Tahoe
Lana & Steve Hardy
The Harrell Family
The Holcomb Family
The Hulburd Family
Brice C. Jones
The Kaitz Family
Kimo Sabe Mezcal
The King Family
The Lagasse Family
Debbie & Kirk Ledbetter
Susie & Bill Lurtz
Stacie & Chuck Mathewson
The Milken Family Foundation
Morgan Stanley Lake Tahoe
Oliver Luxury Real Estate
The Pettit Family
Rochelle & Wayne Prim
Professional Bull Riders, Inc.
R & R Partners
Anne & Tom Rackerby
Camille & Larry Ruvo
The Ruvo Family
Kern Schumacher
Scott Sibley
Southern Glazer's Wine & Spirits of Nevada
The Steiner Family
Nicole & Jon Taffer
Toast Spirits
Amy & John Underwood
Rosemary & Billy Vassiliadis
The Wiegand Foundation
Karen & Rick Wolford