Whether you're attending an event, visiting a medical provider or simply touring our building, you're a valued guest at Cleveland Clinic Nevada, home to Cleveland Clinic Lou Ruvo Center for Brain Health, Keep Memory Alive® and the Keep Memory Alive Event Center. We will do everything we can to make you feel welcome.
Navigating Our Campus: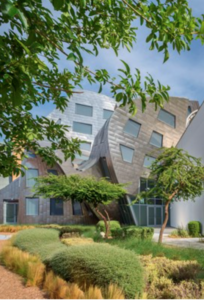 Location: Our address is 888 W. Bonneville Avenue in downtown Las Vegas. We're at the corner of W. Bonneville and Grand Central Parkway, across from the Las Vegas North Premium Outlet mall and World Market Center.
Parking: There is free, convenient self-parking adjacent to our building's entrance unless we're hosting a special event. In that case, complimentary valet parking is available.
Welcome: As you enter our first-floor lobby, one of our friendly team members will greet you and escort you to the right place.
Dining: Our Keep Memory Alive café, in collaboration with Rachel's Kitchen, serves healthy, delicious food from 8 a.m. to 3.p.m. Mondays through Fridays. Stop in for a full meal or a light snack. To order ahead, call 702.722.6814.
Maximizing Your Visit: Our Lynne Ruffin-Smith Library is open to the public from 8:30 a.m. to 4:30 p.m. Mondays through Fridays. You can check out materials on brain disease and on topics of special interest to caregivers.
Programs: Even if you or a loved one is not a patient at Cleveland Clinic Nevada, our no-cost education, therapeutic and social service programs are available to you and your support network.
Our building: The creation of renowned architect Frank Gehry, this landmark draws visitors attracted by its striking design. Photographs are permitted outside of patient care areas.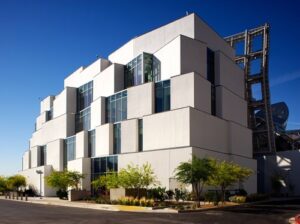 Cleveland Clinic Nevada is a nonprofit and is funded in part by philanthropy from generous individuals like you. You'll see donors recognized throughout our campus. If you wish to support the work of the Lou Ruvo Center for Brain Health's dedicated staff, call 702.263.9797 or email DonateNevada@ccf.org.