Summer Social and Rodeo at Shakespeare Ranch 2017
Shakespeare Ranch at Lake Tahoe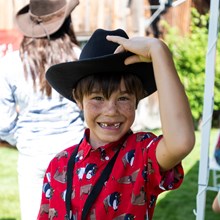 A professional rodeo, the classic Motown group The Commodores and celebrity chef Emeril Lagasse headlined Keep Memory Alive's Summer Social and Rodeo at Shakespeare Ranch, a Western-style weekend of fun and fundraising that has become an annual tradition.
The festivities kicked off Friday, July 28 with the rodeo, which featured bull riding, barrel racing, carnival games, a watermelon-eating contest for kids and a Western barbeque. The rodeo is the successor to the Glenbrook rodeo, which was discontinued in 1965 but resurrected in 2000 by Camille and Larry Ruvo, along with the McGill family.
Saturday began with a private lunch and tour of Lori and Michael Milken's home. The Milken Foundation is a long-time supporter of Keep Memory Alive and collaborator with Cleveland Clinic Lou Ruvo Center for Brain Health.
Then, world-renowned chef Emeril Lagasse's culinary cowboys took the reins in the kitchen to prepare an extraordinary dinner at Shakespeare Ranch. Guests enjoyed the best of his signature cuisine, with a selection of fine wine and spirits. The evening culminated with an intimate performance by The Commodores.
Long-time Nevadans Rhonda and Don Carano and the Carano family were honored with the Keep Memory Alive Community Leadership Award. The award pays tribute to individuals who have displayed outstanding effort in community improvement as well as philanthropic achievements for the state of Nevada.
The Caranos are loyal supporters of Keep Memory Alive. What the couple most enjoys about Keep Memory Alive's events, says Rhonda Carano, is "the camaraderie of hope. There are the entertainers and auctions, food and fun, but of course, the goal is to find a cure. Today, Alzheimer's is like cancer: Most every family has a member who has been a victim, but research can change that. Don and I will do anything we can do to support the research, technology, and education of others to reduce the pain families endure due to brain disease."
Thank You to Our Sponsors:
Gina & Ken Ambrose
The Arcella Family
Beau Joie Champagne
The Beelar Family
Christina & Chip Bowlby
The Carano Family
Cleveland Clinic
The Creighton Family
Brandis & Jon Deitelbaum
Tammy & Michael Dermody
Brandis & Jon Deitelbaum
Nancy & Jimmy Demetriades
Tammy & Michael Dermody
Eldorado Hotel & Casino
Emeril's
Mark Evenstad
Ferrari – Carano Vineyards & Winery
The Fore Family
Dona and Phil Griffith
Sandy & Steve Hardie
Susan & Jim Hart
The Holcomb Family
Alexandra & Paul Hudson
The Hulburd Family
Brice C. Jones
Suzanne & Ric Kayne
The Key Family
The Lagasse Family
Kay & Matt Maddox
The Milken Family Foundation
Morgan Stanley
The Morrissey Family
North Tahoe Marina
NV Energy
The Oldani Family
Oliver – Christie's Luxury Realty
Pendleton Whisky
The Pillsbury Family
Miriam & Wayne Prim
The Rastello Family
Bridget & Brian Riddle
Camille & Larry Ruvo
Kern Schumacher
R.T. Smith
The Solomon Family
Southern Glazer Wine & Spirits of Nevada
The Steiner Family
Denise & Jim Taylor
Toast Spirits
The Walsh Family
Karen & Rick Wolford
Yacht Club Vodka