Summer Social and Rodeo at Shakespeare Ranch 2016
Shakespeare Ranch at Lake Tahoe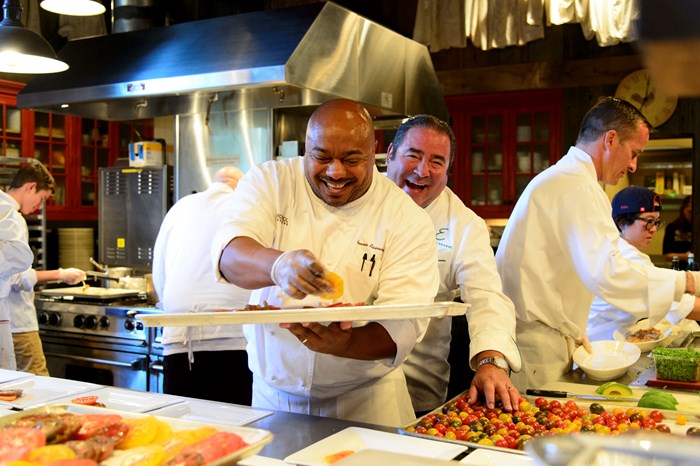 For the 2016 Summer Social and Rodeo at Shakespeare Ranch, Keep Memory Alive invited friends and families to enjoy good food, fun and fundraising at Lake Tahoe on behalf of Cleveland Clinic Lou Ruvo Center for Brain Health.
The Glenbrook Rodeo began Friday, July 8 as co-founders Camille and Larry Ruvo welcomed 600 guests clad in their best boots and cowboy garb. After a rowdy dose of bucking broncos and bulls, Emeril Lagasse and Camille Ruvo umpired a Summer Social and Rodeo favorite for ages adolescent to adult: the watermelon-eating contest.
Guests later enjoyed an Eldorado Reno Resort Casino-sponsored barbecue.  For adults looking to "wet their whistle," Southern Glazer Wine & Spirits' hand-crafted specialty drinks like the Barnyard Old Fashion did not fail to satiate. The barbecue was just the beginning as the band played favorites well into the night.
The following evening, Cleveland Clinic President and CEO Toby Cosgrove, MD, joined the festivities to help celebrate all the successes of the Lou Ruvo Center for Brain Health and to share the vision of the research the center conducts on brain disorders. The Ruvos then honored Lori and Michael Milken with a Frank Gehry original gift, thanking them for their invaluable friendship and their contribution toward keeping memory alive. A great example is the "Fund a Scientist" challenge that Michael Milken issued, to which nine donors responded, each pledging $75,000 a year for three years to support the Lou Ruvo Center for Brain Health's "Young Scientists Program."
Chef Lagasse and his team of chefs extraordinaire prepared a world-class meal featuring Emeril's famous and favorite dishes from his various restaurants across the country. Each delicious course was complemented by exceptional wines and other sponsored spirits. Larry Ruvo and Michael Milken led the live auction, where guests enthusiastically bid on one-of-a-kind items and experiences. To wrap up the evening, Three Dog Night brought the barn down by playing their hits and special renditions of "Prayer of the Children" and "Jeremiah Was a Bullfrog."
Many Thanks to Our Sponsors:
Gina & Ken Ambrose
The Arcella Family
Beau Joie
The Beelar Family
The Robert L. Brown Family
Viktoria and B. Keith Byer
The Campo Family
The Carano Family
Chase International
Cleveland Clinic
Ellen & Andy Dauscher
The Day Family
Brandis & Jon Deitelbaum
Nancy & Jimmy Demetriades
Tammy & Michael Dermody
Eldorado Hotel & Casino
E.L. Wiegand Foundation
Ferrari – Carano Vineyards & Winery
Dona and Philip Griffith
Sandy & Steve Hardie
Susan & Jim Hart
Michael Holcomb
The Hulburd Family
Brice C. Jones
The Kayne Family
The Lagasse Family
The Lurtz Family
The McClain Family
The Milken Family Foundation
Morgan Stanley
North Tahoe Marina
NV Energy
Pendleton Whisky
Miriam & Wayne Prim
R & R Partners
Debbie & Doug Rastello
Camille & Larry Ruvo
Kern Schumacher
Sierra Sotheby's International Realty
The Solomon Family
Southern Glazer Wine & Spirits of Nevada
Marilyn & Tom Spiegel
Heidi & David Straus
Denise & Jim Taylor
Toast Spirits
The Walsh Family
Patrick Willis
Karen & Rick Wolford
Yacht Club Vodka