Summer Social and Rodeo at Shakespeare Ranch 2015
Shakespeare Ranch at Lake Tahoe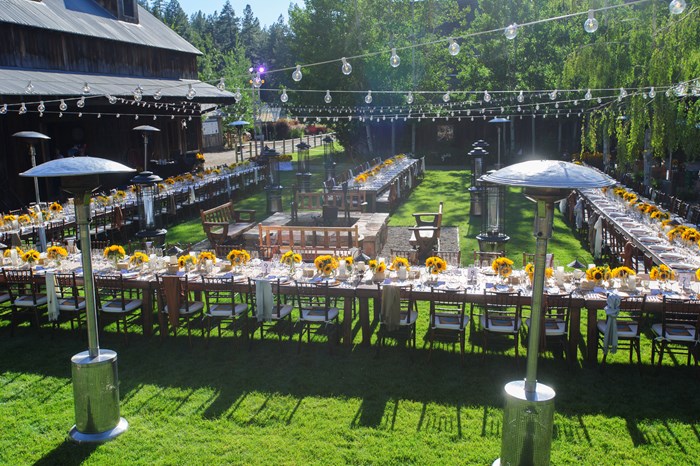 With Lake Tahoe as the setting, donor generosity and contributions reached new heights at the July 2015 Shakespeare Ranch Summer Social and Rodeo.
The event kicked off on a Friday with the annual Glenbrook Rodeo. Camille and Larry Ruvo, Co-Founders of Keep Memory Alive, warmly welcomed the more than 550 attendees. Nevada Sen. Dean Heller's wife, Lynne, opened the event by singing the National Anthem. The festivities kicked off as Outlaw Annie (outlawannie.com) awed the crowd with the shooting and riding skills that have earned her world championships. She challenged Sen. Heller and Arizona Sen. Jeff Flake to attempt similar shooting feats, and both succeeded admirably.
The rodeo featured cowboys and cowgirls as young as age 4 through adult professionals. The entertainment concluded with Emeril Lagasse and Camille Ruvo refereeing another crowd-pleasing Shakespeare Ranch favorite: the watermelon-eating contest. It was messy fun for everyone.
Once the dust settled, guests enjoyed a delicious barbecue sponsored and cooked by the skilled chefs of Eldorado Resort Casino Reno and Southern Wine & Spirits of Nevada. Throughout the weekend, original beverages were created just for the fundraiser featuring the weekend's beverage sponsors.
Saturday began with a private lunch and tour of Lori and Michael Milken's home. The Milken Foundation is a long-time supporter of Keep Memory Alive and collaborator with Cleveland Clinic Lou Ruvo Center for Brain Health.
As veteran supporters of Keep Memory Alive and fans of the fundraising weekend in Tahoe, Chef Emeril Lagasse and his team of top chefs once again donated their time and ingredients to prepare a world-class meal, with each course personally supervised by Emeril himself.
As guests dined, Camille and Larry Ruvo honored Kristen and Raymond "Skip" Avansino of the E. L. Wiegand Foundation for their generosity and dedication to the great state of Nevada and their magnanimous gift to the Lou Ruvo Center for Brain Health's physical and occupational therapy programs.
Larry Ruvo and noted entertainer John O'Hurley led the live auction, where guests enthusiastically bid on one-of-a-kind items and experiences that included a trip to experience the National Dog Show with John O'Hurley himself in Philadelphia, as well as a private gourmet meal cooked by Emeril Lagasse in Las Vegas.
The evening concluded with an exclusive performance by Grammy Award-winner Michael Bolton. Joined by the talented Amanda Brown, Bolton performed several soulful ballads that included "When a Man Loves a Woman," "The Prayer" and "Ain't No Mountain High Enough."
After the intimate performance, guests danced the night away in the barn and made memories certain to last for years.
Many Thanks to Our Sponsors:
Absolute & Jameson
Applied Biologics
Ellen and Frank Arcella
Badoit & Evian
Robert W. Baird & Co.
The Beelar Family
The Bender Family
Captain Morgan & Tanqueray
The Carano Family
Jennifer Trask & Robert N. Chester
Cleveland Clinic
Corona & Modelo
Nancy & George E. Croom Jr.
Brandis & Jon Deitelbaum
Tammy & Michael Dermody
Eldorado Hotel & Casino Reno
Epsolon & Wild Turkey
Ferrari – Carano Vineyards & Winery
The Griffith Family
Sandy & Steve Hardie
Susan & Jim Hart
Thelma B. & Thomas P. Hart Foundation
The Hulburd Family
Brice C. Jones
Roberta & Spencer Kaitz
The Lagasse Family
Debbie & Kirk Ledbetter
Milken Family Foundation
Nevada Title Company
North Tahoe Marina
NV Energy
Tammy & Jim Pierce
R & R Partners Foundation
Debbie & Doug Rastello
Camille & Larry Ruvo
Kern Schumacher
Sierra Sotheby's International Realty
Southern Wine & Spirits of Nevada
Heidi & David Straus
Denise and James Taylor
Toast Spirits
The Walsh Family
Norma & Ranson Webster
Karen & Rick Wolford