Summer Social and Rodeo at Shakespeare Ranch 2014
Shakespeare Ranch at Lake Tahoe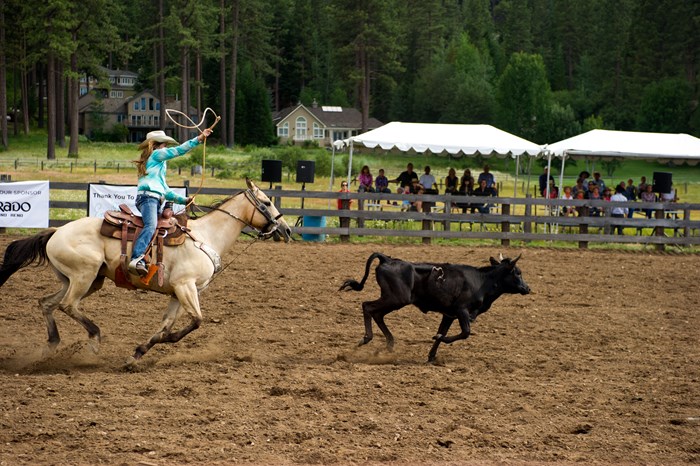 Guests once again gathered on the shores of Lake Tahoe for a weekend of fun and fundraising now known as the Summer Shindig at Shakespeare Ranch. Favorite components flourished, including Waco McGill's Glenbrook Rodeo.  Watch this great highlight reel by Jeff Mitchum of Jeff Mitchum Galleries.
Some of the weekend's newest components surprised and delighted guests, with a lucky few enjoying a golf clinic with PGA legend Mark O'Meara who graciously posed for a photo and offered tips throughout the weekend.
For guests who attended the entire weekend, a behind-the-velvet-rope experience at Lori and Michael Milken's home expanded to include a timely presentation on key changes in healthcare spanning insurance, technology and treatment innovations. The power trio of Mr. Milken and Michael Modic, MD, and Jeffrey Cummings, MD, ScD, Chairs of Cleveland Clinic's Neurological Institute and Lou Ruvo Center for Brain Health, respectively, explained that these changes made philanthropy more important than ever in ensuring quality healthcare. Lior Suchard, whose business card proclaims "Supernatural Entertainment," awed guests by seemingly reading their minds.
That evening, Chef Emeril Lagasse continued his generosity, once again donating ingredients and flying his team from Las Vegas and New Orleans to join him in preparing what many guests proclaimed was the best meal ever served at Keep Memory Alive's weekend in Tahoe.
Among this year's most prized auction items were a week at the Masters Tournament as VIP guests of Meredith and Mark O'Meara, a private dinner for 20 prepared on location at Siegfried & Roy's home and tiger habitat by Iron Chef Masaharu Morimoto, and lunch with music legend Quincy Jones.
Everyone was dancing, singing along and "Getting Footloose" as multi-platinum, two-time Grammy Award winner Kenny Loggins blew the roof off the barn.
Thank You to Our Sponsors:
Ellen and Frank Arcella
Barrick Gold
Beau Joie Champagne
The Beelar Family
The Robert L. Brown Family
Les Busick
Viktoria and B. Keith Byer
The Carano Family
Robert N. Chester
Cleveland Clinic
Brett Coleman
Brandis & Jon Deitelbaum
Tammy & Michael Dermody
Eldorado Hotel & Casino
Emeritus Vineyards
Ferrari – Carano Vineyards & Winery
The Griffith Family
Sandy & Steve Hardie
Susan & Jim Hart
The Hulburd Family
Brice C. Jones
Roberta & Spencer Kaitz
The Keller Family
Alden & Emeril Lagasse
The Landing Resort & Spa
Kathy & Richard Leventhal
Matthews Tradewind, LLC
Kathy & Patrick McClain
Lori & Michael Milken
North Tahoe Marina
William C. Powers
The Rastello Family
Camille & Larry Ruvo
Kern Schumacher
Sierra Sotheby's International Realty
Southern Wine & Spirits of Nevada
Valerie & Mike Thompson
Toast Spirits
Norma & Ranson Webster
Patrick Willis
Karen & Rick Wolford
Yacht Club Vodka