Summer Social and Rodeo at Shakespeare Ranch 2013
Shakespeare Ranch at Lake Tahoe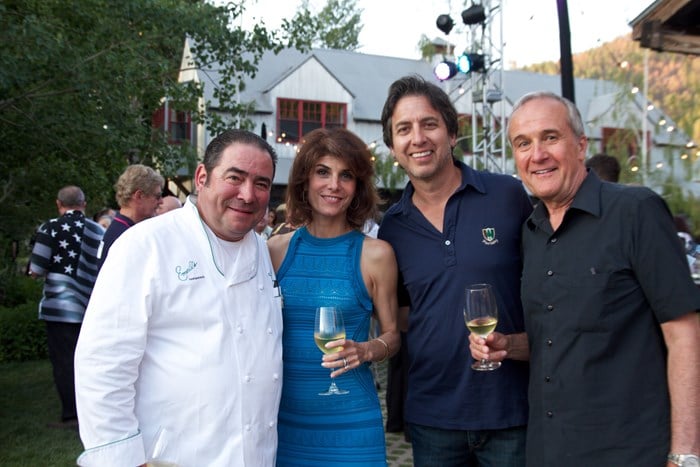 A special highlight of the July 2013 rodeo was the release of the World Birds of Prey falcons, which performed a thrilling flyover to kick off the first afternoon. We thank Lee Halavais, and Corrado De Gasperis, CEO and John Winfield of Comstock Mining for donating this exciting entertainment.
The excitement built as Trish Lynn and the All American Cowgirl Chicks®, an equestrian drill team based in Texas, performed trick riding and stunts. We were proud to present this team, which has been featured five times at the Tournament of Roses Parade. Following a barbeque under the stars, a special performance from country rock bank Left of Centre capped off Friday evening.
On Saturday, the extravagant Western-style weekend of fun and fundraising continued as sponsors and special guests were hosted by Lori and Michael Milken. Lunch was served on the waterfront, and guests enjoyed water sports and lectures by Mr. Milken and Cleveland Clinic Lou Ruvo Center for Brain Health's leadership team.
That evening, longtime supporter Chef Emeril Lagasse once again graciously donated his time, talent, and raw food ingredients, flying his team from Las Vegas and New Orleans to join him in the kitchen at Shakespeare Ranch. They served up the best of his signature cuisine to guests dining outside on a crystal clear Lake Tahoe night.
The most hotly contested item was the George Rodrigue limited-edition God Bless America. The evening concluded when ten-time Grammy winner Kenny "Babyface" Edmonds brought the barn down with his dynamic R&B tunes, inspiring many couples to take to the dance floor.
Many thanks to our event sponsors:
Ellen and Frank Arcella
Ann and Charlie Johnson
Barrick Gold
Roberta and Spencer Kaitz
Bombardier Aerospace
Kathy and Patrick McClain
Viktoria and B. Keith Byer
Mercator Asset
The Carano Family
Lori and Michael Milken
Cleveland Clinic
North Tahoe Marina
Sandra and John Cook
Anne and Tom Rackerby
Tammy and Michael Dermody
R & R Partners
Eldorado Hotel & Casino
R & R Partners Foundation
Ferrari-Carano Vineyards & Winery
The Ruvo Family
The Griffith Family
Beau Joie Champagne & Toast Spirits
Sandy and Steve Hardie
Ginger and Jim Walsh
Susan and Jim Hart
Karen and Rick Wolford
The Hulburd Family
Hutt Aviation